Exhibition | John Duffin | 'City Noir – Vanishing Points'
In a major new solo exhibition at For Arts Sake this winter, John Duffin throws modern city life into bold cinematic relief
The British painter and printmaker's works imbue London and New York with the drama of light, shadow and scale
For Arts Sake is delighted to welcome painter-printmaker John Duffin back this November for his second major solo exhibition with the gallery. In 'City Noir – Vanishing Points' his striking oil paintings and etchings draw their inspiration from the dramatic tones and moods of Hollywood's Film Noir and Italian Renaissance artist Caravaggio to throw 21st century urban landscapes into bold relief.
On show will be brand new works featuring London landmarks including Borough Market, King's Cross St Pancras, the iconic Bar Italia, Park Royal Underground station and the Art Deco Hoover building, as well as Manhattan's Brooklyn Bridge, Chrysler Building and more.
Using experimental, often giddy, vantage points Duffin's pieces see his figures subsumed by the energy and scale of urban life. Yet at the same time their small stories are writ large, as if for the silver screen. With echoes of Edward Hopper and L.S. Lowry in his work, Duffin is a masterful storyteller of life and the human condition in the modern metropolitan city.
A former naval architect, Duffin is a graduate of Goldsmiths and Central St Martins and a member of the Royal Society of Painter-Printmakers. His works are held in the collections of the Ashmolean Museum, Oxford, the Museum of London and the University of the Arts.
John Duffin, 'City Noir – Vanishing Points', For Arts Sake, free entry, November 3 – 26, 45 Bond Street, Ealing W5 5AS, Mon-Fri, 10am-5.30pm, Sat 10am-6pm, Sun 12-5pm, johnduffin.co.uk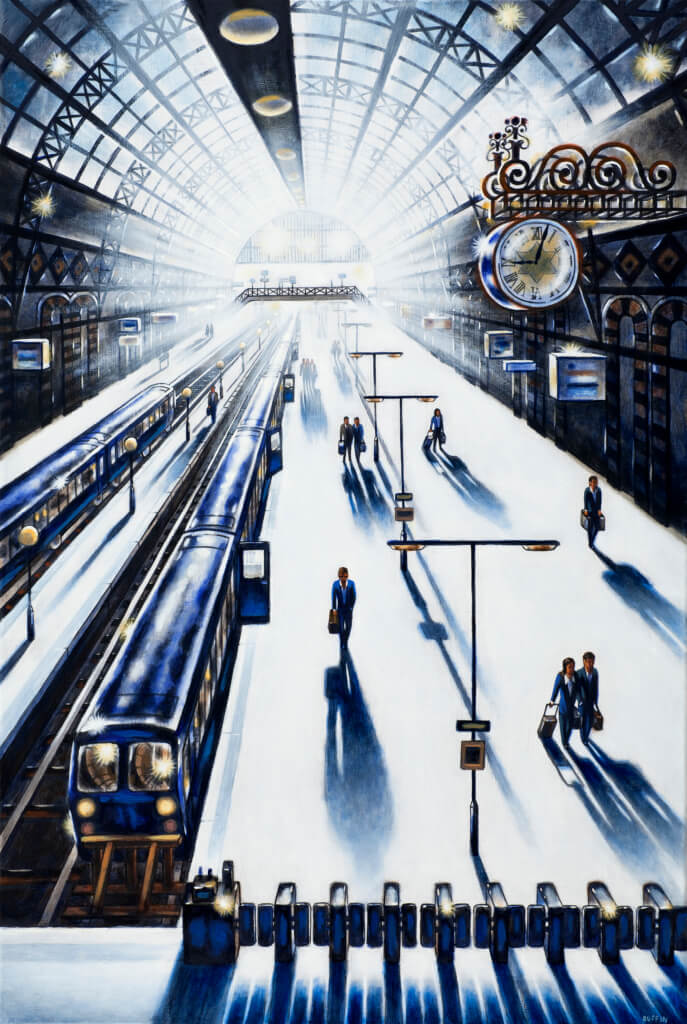 Words: Alexa Baracaia