Paul Catherall | Exhibition
Paul Catherall is a London based printmaker and illustrator who has become renowned for his clean, sharp linocuts of architectural landmarks, many of which will be very familiar to people and include Telecom Tower, Battersea Power Station and Tate Modern.  He has a passion for highlighting and bringing to life structures that may have been neglected, overlooked or just unappreciated for a long while, such as the Elephant and Castle Shopping Centre. Our next major exhibition will feature a range of work from this leading printmaker and includes a private viewing on the evening of April 16th, with a chance to meet the artist.
In the exhibition, Paul Catherall presents over 50 works including original prints from Transport for London's recent bus poster campaign – striking images that feature the new Routemaster bus against some of London's most famous landmarks including St Paul's Cathedral, Parliament Square and Kings Cross.  For more information about Paul's work with Transport for London, you might like to read our interview with him on this subject here.
The exhibition also includes artist's proofs of sold out editions from various commissions, including the Southbank Centre and Royal Shakespeare Company. Also on display will be design packaging and book cover illustrations for Penguin and Profile books, some for the first time. Despite such high profile commissions Paul remains modest: "I've honestly never really had set goals – just to continue to improve and never to just churn prints out. I remember that when I was at college and just after graduating, that a poster for London Transport or a stamp for Royal Mail were the holy grails. I've done lots of posters and been in the running for stamps three times, so I mustn't grumble!"
Combining an expert eye for composition and colour with consummate draughtsmanship, Paul Catherall creates beautiful prints entirely by hand in a painstaking relief process that takes several weeks to complete. "Printing by hand is very important to me – you become so involved that you really care about the print and put every effort into it working" Paul told us. "To start a print I basically gather all the visual reference I can. This usually involves waiting for a day with good light and photographing the subject in the morning and late in the day, when the light is strong but low. I'll sketch in-situ if time permits and then sit down with all my references in front of me and draw and draw and draw. I sketch on tracing paper so I can develop my designs from sheet to sheet. Really it's a case of a rough sketch evolving into a highly designed and thoughtfully composed simple layout. This is then enlarged /or reduced to the actual print size and traced directly onto the lino, usually using 4/5 plates for each design. I love the fact that the lino process is methodical but different at each stage – you can be adventurous and free with the initial sketches – then it requires a great deal of concentration and general blood sweat and tears to create the finished composition. The carving is quite therapeutic and the printing is a combination of both with a physical aspect thrown in; so you feel like you've done real work…."
We're delighted to be showing the work of one of Britain's leading printmakers at the gallery.  Many people, especially Londoners, will be familiar with Paul's work as he produces images that have been displayed as posters on bus stops and tube stations all over London. This exhibition provides an opportunity to see these impressive prints and a wide range of other works which celebrate favourite London landmarks as well as recent additions to the London sky line, such as The Shard. Each print of Paul's takes weeks to complete and in the exhibition you can see the time involved; Linocraft is a physical as well as creative process and each print Paul Catherall produces is made by hand, demonstrating the care and attention that goes into his work.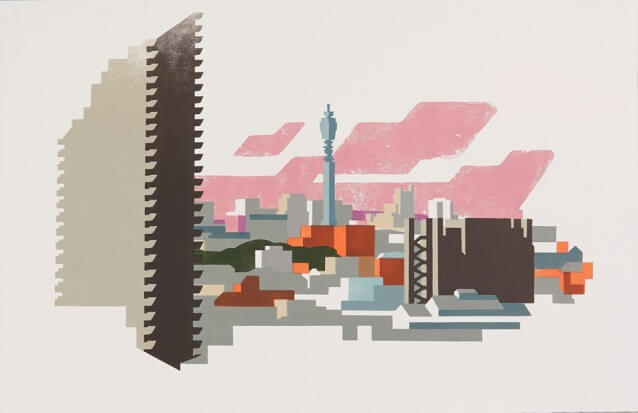 The exhibition opens on April 17th and is on view until 17th May. There will also be a competition running giving people a unique opportunity to win an artist proof of one of Catherall's Oxo Tower prints which have now completely sold out. To enter the competition you will need to follow our Facebook page which is where we will announce the details and how to enter. You can also see some of the images that will be included in the exhibition over on our Pinterest gallery.