Photography Exhibition by Alexandre Arnaoudov
Our next exhibition at The Gallery Downstairs is a change from our usual run of print makers as we are exhibiting over fifty photographic images by Alexandre Arnaoudov.  Alex was born in 1974 in Bulgaria and started taking pictures while at the America University in Bulgaria, when he took a Photojournalism class, and since then has been shooting more or less on a regular basis.  His prime interest is social and cultural documentary photography from around the world. His exhibition at For Arts Sake opens on Friday 23rd January and will focus mainly on London based images including scenes from around Ealing.
Prior to the exhibition opening we spoke with Alex to find out more about his work and what inspires him:
What's your background?
I don't come from an artistic background, my parents were both engineers so I grew up with rulers and pencils at home. I liked to draw as a child, but when my parents gave me a Russian camera for a present one New Year, well it went all downhill from there.  I grew up in communist Bulgaria, then a transitional period after the fall of Communism and the craziness of the free economy. I left home to study in the American University in Bulgaria, then lived in Boston USA for two years where I worked in a photography gallery called Panopticon, where I met a few renowned photographers like Ernest Withers, Lou Jones, Costa Manos, Bradford Washburn. I've been living and working in London since 2003.
How would you describe your work?
The images in the exhibition represent a selection of Ealing and London photography, mixed with some of my abstract  (more "poetic") work. I have been taking pictures around Ealing and London for the past ten years. Also included are a few images from the South Downs, which shows a bit more of my landscape work. Currently my theme is documenting Little Scenes of Local Life, but more generally The Street. I find inspiration in a variety of places from jazz and classical music, books, the rain, train journeys, walking, the racing clouds above London and the shifting light between the buildings of the City.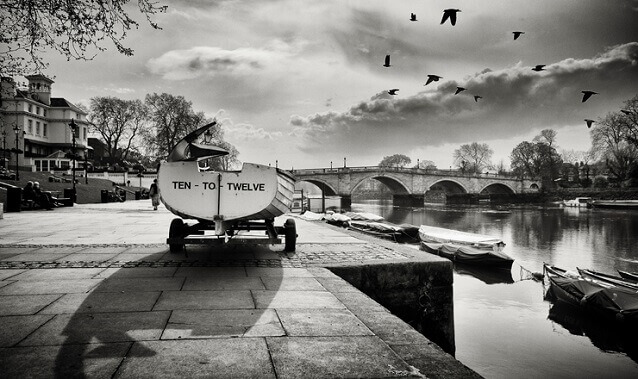 How has your practice changed over time?
I started with photographing the place I lived as a child and playing with the camera just for fun. Gradually I started seeing things more in depth, and while in the American University I took  a few courses in Photojournalism and got interested in documentary and social photography. I have tried more pictorial styles, trying my hand in landscapes but found that I lack the patience. Last year I did a 365 project where you take a picture everyday and post them on social media. That really changed the way I take pictures, helping me to become more observant and receptive to photo opportunities. Looking ahead my dream would be to go on a road trip, travel on foot, train and bus for a few months and document everything that I see and then make a big fat book about it.
What do you most enjoy photographing?
The street in all its incarnations. This is fairly recent development but the one that I enjoy immensely and most deeply. There is magic on the street, moments unfold every second and I try to capture them. When I am in a contemplative mood – the seaside or the woods, but above all the mountains. When I am in my street mood – well obviously the busiest parts of London!
What art / artist do you most identify with?
Mostly the movement that H C Bresson started; when he started photographing life around him with a small handheld camera and all his followers – Robert Frank, William Eggleston, Tony Ray Jones, Joel Meyerowitz, Saul Leiter, Sergio Laraign, Marc Ribaud, to name a few. I like the photography of Rinko Kawauchi, especially the way she sees the light and Daido Moriama for his gritty street images. I cant say I identify with any of these photographers, I just take whatever I need from them and make it my own.
Alex Arnaoudov has worked on several projects over the years, including a documentary on the conditions of Bulgarian orphanages for Helsinki Watch Bulgaria and a project documenting the process of teaching English to Roma orphans in a Bulgarian orphanage.  He has done a solo exhibition titled Places and Faces of Bulgaria at the American University in Bulgaria, depicting the Rozhen Folk Festival, which takes place annually in the Rhodopa Mountains in Bulgaria.  Alex has also taken part in a UNESCO-run exhibition, titled Just Art, which took place in Boston, USA.  Alex's photograph Boston Common has also been chosen as a finalist to the 2003 photo competition of the International Library of Photography and it was included in the book "Journey into the Imagination."  While in Boston, Alex worked alongside renown artists such as Ernest Withers and Bradford Washburn.  At present, Alex Arnaoudov resides in Ealing, London.
You can see our Alex Arnaoudov exhibition in The Gallery Downstairs at For Arts Sake and it runs from Friday 23rd January to Sunday 8th February 2015.