The RE comes to For Arts Sake
This summer's show at For Arts Sake will feature over 90 new works by leading printmakers, showcasing the best in contemporary printmaking. The exhibition will consist of a selection of works made from the 136th annual exhibition of the Royal Society of Painter-Printmakers at Bankside Gallery.
The Royal Society of Painter-Printmakers is one of the world's premier organisations and represents the work and interests of printmakers.  The Royal Society of Painter-Printmakers was previously known as the Society of Painter-Etchers, which was founded by Francis Seymour Haden in 1880 in reaction to the Royal Academy of Art's reluctance to exhibit etchings and engravings. Once Queen Victoria granted the royal charter they became The Royal Society of Painter-Etchers. Although the name changed in 1991 to embrace a broader range of printmaking practices, they have retained the abbreviation RE to this day as both their identity and the qualifying letters that follow an elected Fellow's name. The society is extremely proud of their history with eminent past Members including Graham Sutherland, Stanley William Hayter, Edward Bawden, Julian Trevelyan and Michael Rothenstein.
Printmaking is a dynamic and forward-looking pursuit and the current membership includes some of the most innovative and creative artists working in every print-based medium imaginable. Each year the society holds their Original Prints exhibition of current work by the Society's Members and this year, for the first time ever, a selection of works from this show will be transferring from their home in Bankside Gallery (on the Thames riverside next to the Tate Modern), to For Arts Sake gallery in Ealing. We're sure that the opportunity for people in west London to see work on their doorstep that has travelled from a major gallery over 11 miles away will be very enticing.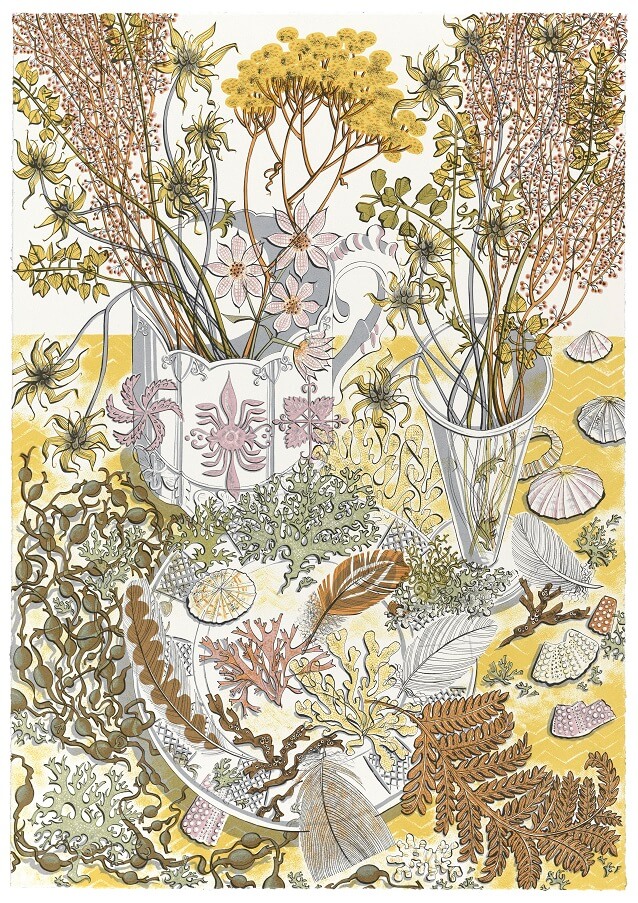 Our exhibition will feature works by both new and established printmakers and will present a variety of prints exploring the boundaries of printmaking. Techniques on display will range from aquatint, drypoint, digital, intaglio, linocut, screenprinting, wood engraving to etching on tea-stained Japanese gampi chin-colle (a type of paper). The walls at For Arts Sake will be teeming with the highlights of an exhibition that will feature some of the country's leading contemporary printmakers.
Embracing both established and experimental techniques the original prints in this exhibition endeavour to inspire artists and delight visitors.  The show will consist of a range of works varying in size, style and technique with over 90 works on display from printmakers including:
Anita Klein
Margaret Ashman
Gerry Baptist
Mychael Barratt
Gail Brodholt
Paul Catherall
Louise Davies
Morgan Doyle
John Duffin
Karen Keogh
Angie Lewin
Trevor Price
Chris Orr
The exhibition runs from Friday June 10th – Sunday July 10th 2016
The private view will be on Thursday June 9th 6- 9pm with many of the exhibiting artists planning to be present.  Please rsvp to [email protected] to be added to the guest list.