Statement jewellery by Sarah Jane Smyth
Sarah Jane Smyth will be at our Gallery over the next two Saturdays to help you create your own piece of statement jewellery. Creating iconic statement stone jewellery by hand, Sarah Jane Smyth selects the stones that she has a connection with from their look, feel or touch. Stones such as Amethyst, Pyrite and Hematite are juxtaposed against Czech glass and vintage stones. Her unusual combinations are the focal point of any outfit and we are delighted to be stocking them in the gallery, especially as the Christmas party season is just around the corner.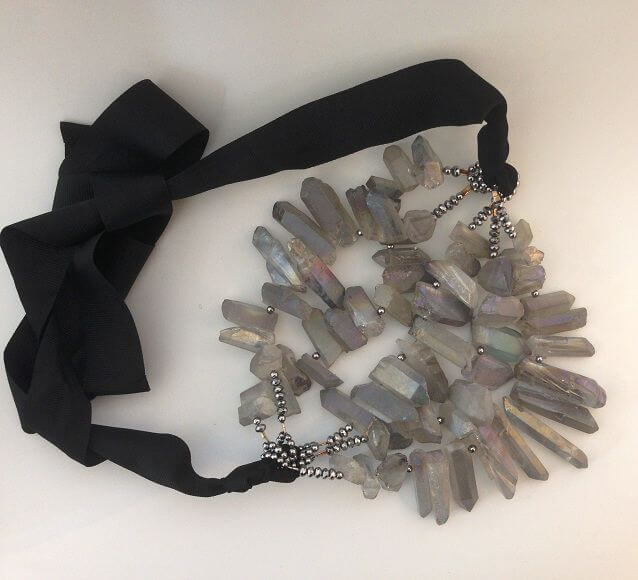 The beauty of statement jewellery is that it only takes one piece to make your whole outfit stand out so keep your look simple. A black dress is the perfect match to let your jewellery dazzle whilst one piece can make all the difference to dress up jeans and a t-shirt.
Sarah Jane Smyth's beautiful jewellery collection places an emphasis on organic rock and stone formations. Sarah Jane creates her pieces using only a very high quality of stones sourced by her personal gemologist. The juxtaposition of the gemstones with Czech, vintage and crystal glass creates a mythical and decadent quality.
Signature pieces include The Sputnik, which is an organic, spiked hand-woven ball of Czech glass suspended on a hematite crystal chain. The Rock Crystal Collar is an electro-magnetically plated, iridescent agate and hematite piece with grosgrain ribbon so the wearer can adjust where they want the collar to sit. The Reef Cuff is reminiscent of glistening pebbles found by the coastline and is constructed from amethyst and Czech glass. Finally the retro 90's bubble hearts on grosgrain ribbon are sea inspired and perfect worn as a choker.
As well as her individually made pieces Sarah Jane also takes orders for bespoke pieces enabling the wearer to create something truly personal to be treasured and enjoyed.
We're are delighted that Sarah Jane will be in the gallery on Saturday 29th November and Saturday 6th December where along with pieces from the collection to buy or be inspired by, you will be able to work with Sarah Jane to choose from the loose stones and have a piece designed to your own specification and budget. Wouldn't this make the perfect gift for someone who appears to have everything!
Sarah Jane explained to us why creating bespoke jewellery is her favourite part of design: "My real passion is one off pieces, where the client chooses the stones and I produce the piece of jewellery for them, while they are with me. I have a good knowledge of the stones, their properties and what will work with the clients proportions to get the best design for them. It's very much an organic process of stringing choosen stones onto wire, chain or cord, depending on what the client it looking for."
Sarah Jane Smyth
studied business finance and fashion management at the London College of Fashion and went on to work for various independant and high strand brands. Eight years ago she set up her own jewellery brand and is now
stocked at exclusive boutiques throughout the UK as well as in Japan.  This year Sarah Jane was the IJL 2014 Editor's choice winner, for the most innovative new collection
.