Mother's Day Gift Guide I Our Top 12
Spa breaks, pub lunches and afternoon teas may be out this Mothering Sunday – but you can still show your love with a print. Here are our top picks…
---
1. 'Pear and Lillies' by Jane Walker
The gift of flowers with a dash of vintage cool. You can't go wrong with this gorgeous, midcentury Scandi-inspired still life from Jane Walker. Linocut, edition of 10, £295. Find it here.
2. 'Mother and Child IV' by Mary Cossey
One for the new Mama in your life. Mary Cossey's tender ode to babyhood. Etching, edition of 80, £68. Find it here.
3. 'Curl II' by Jane Bristowe
In the pink with retro Victory Rolls. We are big fans of this colour-popping beauty. Linocut, edition of 50, £215. Find it here.
4. 'Time to Go' by Anne Forte
A reminder of those giddy days when actually getting dressed up to go out was an option. Screenprint, £138. Find it here.
5. 'Retail Therapy II' by Gail Brodholt
Honestly? It's (almost) all we're dreaming of right now. Linocut, edition of 75, £360. Find it here.
6. 'Between You and Me VIII' by Corinna Button
We love Corinna Button's gorgeously mysterious, lace-veiled female portraits. This one is a stunning large-scale piece but there are smaller versions available too. Carborundum collagraph, edition of 15, £1,100. Find it here, and find more like it here.
7. 'Delirium (Blue)' by Dan Baldwin
Give flowers boldly. An eye-smacking pop of colour in Dan Baldwin's graphic floral print. Screenprint, edition of 20, £895. Find it here.
8. 'Baby' by Frans Wesselman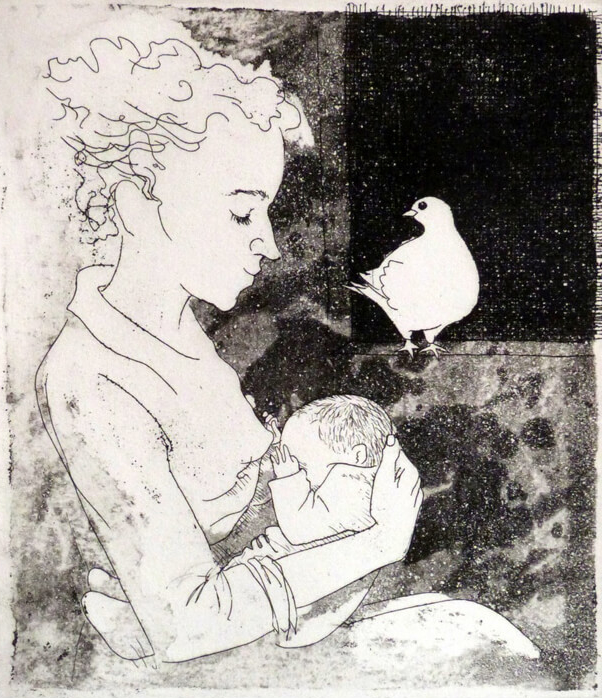 Another beautifully tender ode to new motherhood, this time from Dutch artist Frans Wesselman. Etching, edition of 50, £160. Find it here.
9. 'North Beach, Iona' by Gill Tyson
A welcome dose of sweet tranquility, in Gill Tyson's calming seascape print. Lithograph, edition of 10, £300. Find it here.
10. 'Unexpected Objects, No.17' by Gregoria Saavedra
The twin signals of contemporary parenthood – Disney and Oreos. Far better on the wall than on the floor… Archival digital print, edition of 25, £595. Find it here.
11. 'Rainy Night, The Ivy' by John Duffin
The promise of heady evenings to come in John Duffin's romantic, Film Noir-infused vision of London. Etching, edition of 150, £595. Find it here.
12. 'Juno' by Maria Rivans
Juno, Queen of Goddesses. What more can we say? Giclee & screenprint with iridescent spot varnish, edition of 200, £420. Find it here.
Order now for delivery, or 'Click & Collect' from our gallery, Monday to Friday, 11am to 3pm. Need something to be framed? Email [email protected]